Facebook and the Coming Wave of QR Codes
March 16, 2010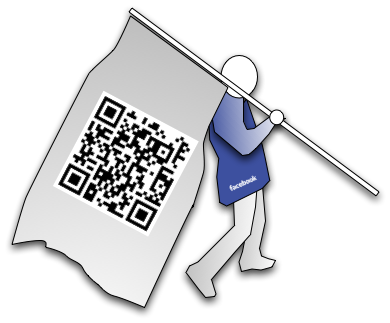 Two dimensional barcodes are in the air. After linking us to Google's favorite places, storming SXSW, going to the movies with us on Fandango movie tickets, now come the biggest rumblings yet of the coming QR wave: Facebook is rolling out automatic QR barcodes for profiles.
I've been working on 2D QR codes for a little over six months now. SnapMyinfo was one of the first projects of TenZeroLab and originally intended only to be a one or two month project. The more I worked with QR codes, however, the more excited about the potential of these barcodes I became.
There's a convergence of several factors that make me believe we will see more and more of these mobile barcodes. The most important is that smart phones are finally beginning to really take hold in the US. I predict that Android handsets will become the free feature phones that are bundled with wireless plans within the next year.
My original intent with SnapMyInfo was to help popularize QR codes by eliminating the need for smart phones and mobile applications to decode them. The time is rapidly approaching, however, where the distinction of "smart phone" will become meaningless. The majority of people will have a handset that can decode these codes, many with the capability on the phone without having to install an application.
Another factor that's emerging is the growing awareness of the crossover of information services and physical spaces and goods. We're on a trajectory that will eventually lead us to an augmented reality future, but for now, being able to explicitly link online information and data in the real world has deep and powerful implications.
I've found that SnapMyInfo's biggest hurdle to date has been explaining QR codes and how to decode and use them. With Facebook's push to add QR codes to profiles, there is now the potential for millions of new users to be exposed to what's possible with these two dimensional barcodes. This technology has the potential to be as fundamental as the hyperlink with just as many amazing applications and creative uses.