It's tough to make predictions, especially about the future
title quote - Yogi Berra
I've been contemplating exactly what to write here, as I'm still grappling with the implications of the decision I've made. About 3 weeks ago, I informed Adam Green, the CEO of Grazr Corp., and the Board of Directors of my intent to resign from the company that I helped start and build over the past 3 years. While I'm still a partial owner, and will occasionally help out when needed, I will no longer be involved in the day-to-day operations of Grazr Corp. as their Chief Technology Officer.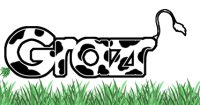 This is not a decision I have taken lightly. Grazr has consumed a huge part of my life over the past three years. Like all startup stories, this involved many late nights, long hours, and numerous personal sacrifices. (A special thank you to all my family, friends and especially my awesome girlfriend Juliette for putting up with all my craziness.) In a strange way, I imagine founding a company is much like being a parent, which is probably why most people refer to it as their "baby." In the end, I believe this is not only the best decision for me, but also the best decision for the company.
I'm not leaving Grazr because of the hard work, the sacrifices, or because of the struggle involved. Grazr, like all startups, continues to have its fair share of ups and downs. Sticking through both the good and bad times in a struggling company is one of the great virtues of startup founders. Like Paul Graham says, starting a company is like being punched in the face. Repeatedly. Sometimes for years on end. :) It's the process of discovery and the passion for the vision that keeps the founder coming back for more.
So, you're probably asking: "If that's true, then why resign?" It's a long complicated story. (Isn't it always?) The short (or not so short) version, though, is that it was the convergence of a few things:
First, over the past three years, we built three products with really great (IMHO) technological underpinnings: Grazr.com, VibeMetrix, and AlertRank. However, for various reasons, with each progressive product my role in the overall design diminished. I decided to become an entrepreneur in large part due to my passion for designing and building products. I found that with a limited role in the design of our outward-facing projects, I felt a loss of some of the joy I once felt from being a part of the creative process.
Secondly, Grazr Corp. has made a shift to simpler, more targeted products that demand less of a technological focus. Grazr Corp.'s newer products are intentionally cleaner and simpler than the huge complex machine of interacting technology we built for Grazr.com. While we arguably substantially overdeveloped for Grazr.com, this shift also means that my particular skills are less relevant for the future direction of the company.
Lastly, and probably most importantly, over the three years Adam's vision and my vision for the direction of the company began to significantly diverge. When determining the future of Grazr Corp, its products and future designs, we often disagreed but in the end followed Adam's lead. This was absolutely the right thing to do, he is the CEO and ultimately responsible for the company, the employees, and answering to the investors. While supporting Adam in these decisions, it still, however, left me with the increasing feeling that I could no longer significantly affect the course of the company. With the daily mental and physical grind that comes with a startup like ours, the feeling of no longer being able to affect these kinds of decisions dampened my startup-passion and I began to burn out. When I realized I had arrived at that point, I knew that I was more of a liability to the company than an asset.
I'm still immensely thankful for the experience, and to have met and worked with Adam Green. Grazr Corp would never have been formed without him. Although our views on the products, method of development, and direction of the company differed, I learned an amazing amount from him over these past three years. He has continually impressed me with his ability to correctly predict technological trends. I remain grateful that he saw potential in me and the work that I was doing three years ago and helped me found this company. I remain confident that Adam will continue to look out for what is best for the company and its employees, ultimately making Grazr Corp a success.
So what now? Adam will continue to drive Grazr Corp. with AlertRank and other information products. The capabilities of Grazr.com will be substantially diminished, having its more advanced feed processing and manipulation technologies taken offline on June 25. This includes the feed merge engine, the embedded scripting engine GrazrScript, as well as the hosting accounts on Grazr.com. It will continue to serve the files already stored on Grazr.com, as well as provide the free Grazr widget, the advanced OPML and RSS widget that was the genesis of the company back in June 2006.
VibeMetrix was a hard-fought lesson for the company. After careful consideration, the site has been shut down. The idea of "blogger relationship management" was a good one, but in the time it took for us to try to explain the concept (and its workflow), the market for alerting and analytics tools exploded and became confusing, clogged and unfortunately for us, mostly filled with free tools. The lessons of VibeMetrix, however, led directly to Grazr Corp's third product, AlertRank.
AlertRank is continuing to grow interest and customers, and is (as far as I know) the only tool expressly designed for managing alerting and information flow from Google. It will continue to be a major focus for the company going forward. Adam continues to provide tips and tricks for using Google Alerts in really interesting and powerful ways on his blog Mr Google Alerts. If you have even a passing interest in google's search syntax, his posts are eminently worth reading.
I wanted to give a deep heart-felt thanks to the people that have made the past three years an amazing journey for me. I hope to continue to stay in touch and work with you in the future.
Thank you to all of Grazr.com's earliest users, strongest evangelists and supporters:Fred Zelders @fzelders, Tony Hirst @psychemedia, Marjolein Hoekstra @cleverclogs, Marshall Kirkpatrick @marshallk, David Tebbutt @tebbo, Amy Bellinger @amyloo, Rick Shide @rickdog, Dan Weinstein @djweinstein, Tom Morris @tommorris, Chris Pirillo @chrispirillo, Kosso @kosso, and our many other supporters. Your belief in the technology and vision made a lot of what we did possible and worthwhile.
I also wanted to thank the exceptional team, both past and present, at Grazr Corp. that I had the pleasure of working with: Kurt Gray, Patrick Galbraith, Marc Pilon, Eric Whitten, Shannon Holmes and John Casey.
Lastly I wanted to thank Grazr Corp's board, investors, and advisors for the support and advice over the years: Bruce Twickler, Louis Page, Dan Bricklin, Vadim Yasinovsky, Brian Aker, James Corbett (the original Grazer!), and David Weinberger.
For me, things are less clear, but a few things are definite. It has definitely been a truly amazing three years. I've been fortunate enough to work with some great people and had a whirlwind course on the ins and outs of starting your own company.
I definitely love being an entrepreneur. While my heart right now is filled with a mix of emotions, ranging from nervousness, anxiety, excitement to a little bit of sadness, I couldn't imagine having done or doing anything else. I'm unsure what the immediate future for me holds, but I certainly look forward to finding out.