Michael Kowalchik - Engineer, Entrepreneur and Creative Hacker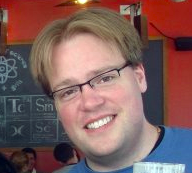 I'm an engineer, entrepreneur, and creative hacker. I love technology and using technology as a way to express creativity. I love the process of building great things with great people. I currently live in Salt Lake City with my amazing wife Juliette, our daughter Ada and our dog Ajax.
Currently, I'm working at Pluralsight, an amazing company that is trying to democratize professional technology learning. Previously I was the CTO and co-founder at Smarterer. In 2014, Utah-based Pluralsight aquired Smarterer to bring together Pluralsight's training capabilities with Smarterer's cutting-edge skill assessment technology. After the acquisition, Juliette and I made the trek out to Salt Lake so that I could bring my technical expertise to Pluralsight. It's been an interesting couple of years to say the least!
Before co-founding Smarterer, I was co-founder and Chief Technology Officer at Grazr Corporation, a web technology company based on web feeds and social media data analysis. For three and a half years I led the engineering team and acted as primary software developer and architect for Grazr's various products. These products included Grazr.com, VibeMetrix, and AlertRank. In June of 2009 I decided to leave Grazr corporation and venture out again on my own. Sadly, Grazr was never able to find success with the products we launched and officially shut down on September 30 of 2010.
Prior to co-founding Grazr corp, I worked for seven years in in the advanced research and development labs of Hopkinton, MA based EMC Corporation and before their acquisition by EMC, Data General Corporation. I worked with cutting-edge distributed computing and storage architectures, parallel processing, hardware, software and systems design and analysis. While at EMC, I was awarded patents on large-scale, high-performance, storage architectures.
When I have spare time I also work on a number of other side projects.
You can follow me on Twitter.